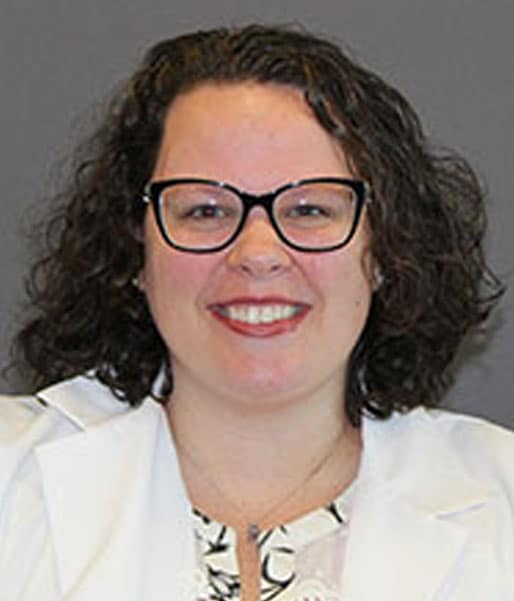 Pharmacy
Stephanie Borgeson, RPh
Title: Clinical Pharmacist
Dr. Stephanie Borgeson will be the Pharmacist-In -Charge at the Stafford Ocean Health Initiatives Pharmacy. She is currently working at all sites until the grand opening of the Stafford Pharmacy, which is scheduled for Fall 2019.
Stephanie's career in pharmacy began while she was still in high school at a part-time, after-school job. This opportunity sparked an interest and passion for the industry, which led her to enroll in pharmacy school. In 2008, Stephanie graduated from Massachusetts College of Pharmacy and Health Sciences in Boston with her Doctorate in Pharmacy. While attending MCPHS, she pioneered the college's chapter of the National Community Pharmacists Association. She served as the chapter's President for three years up until she graduated. During that time, Stephanie also worked at a local compounding pharmacy in the suburbs of Boston, where she learned all about customizable medications for patients and pets alike. She completed an Infectious Disease rotation at Mass General Hospital, in addition to a rotation at South Boston Community Health Center, where she worked with patients with diabetes. 
After graduating from pharmacy school, Stephanie moved back to New Jersey and began working in a community pharmacy in her hometown. Through that position, she built relationships with patients and quickly became a trusted member of the community. Stephanie has participated in many community events, including hosting flu clinics, bone marrow drives, and guest speaking for various organizations.
In early 2019, Stephanie joined the OHI team. She currently works at all locations and enjoys counseling patients and working as a team to improve the overall health of our communities. When she's not working, Stephanie likes to spend time with her husband and 3 children. She also volunteers with her children's school and various community activities as much as she can.